Entered: 2023/06/26 18:17
Reporter Byung-Chul Lee
Quantum Korea 2023 International Research and Industry Exhibition held Three domestic telecommunications companies overseas companies such as IBM also gathered Identify overseas research trends and business collaboration opportunities
"Korea will emerge as the biggest competitor and cooperation partner in the quantum industry in the future. At this event, we saw Korea's amazing quantum technology."
On the afternoon of the 26th, Jean-Jade Ruid, who we met at Dongdaemun Digital Plaza (DDP) in Dongdaemun-gu, Seoul, said this with a flushed face to the reporter. Mr. Ruid is working for a French company that develops quantum measurement technology, and he said that he visited this place to attend the 'International Research and Industry Exhibition' held as a side event of 'Quantum Korea 2023' that opened that day.
At 'Quantum Korea 2023' held from this day to the 29th, various events such as lectures by Nobel laureates and international research and industrial exhibitions participated by domestic and foreign quantum-related companies and research institutes were prepared.
On this day, the DDP Art Hall Hall 1, where the international research and industry exhibition was held, was crowded with citizens who came to the event to see the current state of quantum science and technology with their own eyes, and industry officials who visited to find business partners. Among domestic companies, three telecommunication companies, SK Telecom, KT, and LG U+, as well as quantum-related start-ups, universities, and government-funded research institutes set up booths to showcase their latest research achievements and products. Including IBM, which is leading quantum computer technology, and foreign companies including US startup IonQ, about 50 companies and institutions participated and filled the event hall.
Heavy rain, which signaled the start of the rainy season, continued from the morning, but visitors continued to visit from 1:00 p.m., when the exhibition hall opened. The place where the largest number of visitors visited was the booth of IDQ, a subsidiary of SK Telecom and quantum cryptography communication. SK Telecom attracted attention by introducing products that can be applied to commercial services, such as quantum random number generators, quantum key distributors, quantum sensors, and quantum LiDAR (light radar). In particular, a program was prepared to take pictures of visitors using quantum lidar. Because quantum science and technology had not yet reached the stage of commercialization, there were not many programs that visitors could experience, so SK Telecom's quantum lidar received more attention.
Eom Sang-yoon, CEO of IDQ, said, "Recently, we signed a memorandum of understanding (MOU) with a Singapore telecommunications company for cooperation in the field of quantum cryptography communication, and are actively discussing business with other countries." We expect corporate officials to visit our booth."
Many visitors also visited IBM's booth, which is considered the most advanced in the field of quantum computing. The only exhibit at the IBM booth was a 433 qubit superconducting chip, but visitors to the booth continued. IBM is currently working on a project to build a global ecosystem in the quantum field, introducing various services including hardware, algorithm, and software development.
Sophie Shin, IBM Quantum Korea leader, said, "IBM has set up an event booth to announce that it is making various attempts not only to develop quantum computer technology but also to expand the quantum ecosystem."
The booths of research institutes researching quantum technology were also very popular. Korea Research Institute of Standards and Science (KRISS) attracted attention by exhibiting a mock-up of a superconducting quantum computer. As the domestic quantum technology ecosystem is still centered on research institutes rather than companies, many business officials visited the booth of the research institute to discuss the latest technologies and joint research.
Cho Myung-rae, a senior researcher at the Center for Superconducting Quantum Computing System at the Standard Research Institute, said, "We were discussing with the company officials what parts could be used for the quantum computer we are developing.".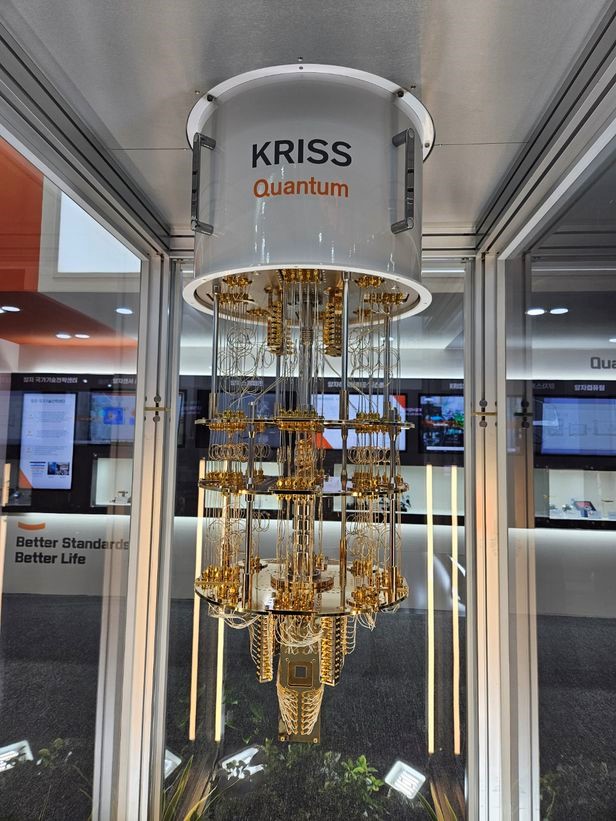 As the event was the largest among bilateral events held in Korea, it was possible to get a glimpse of interest in foreign companies' participation. In particular, not only leading companies in the field of quantum technology, such as IBM and IonQ, but also several European companies that are not well known in Korea were on the list of attendees.
Senior researcher Cho said, "I am interested in companies that play a leading role like IBM, but I am keeping an eye on the booths of European-based companies such as IQM. What strategies have European companies adopted? What can we learn from them? It is an opportunity to find out what it is."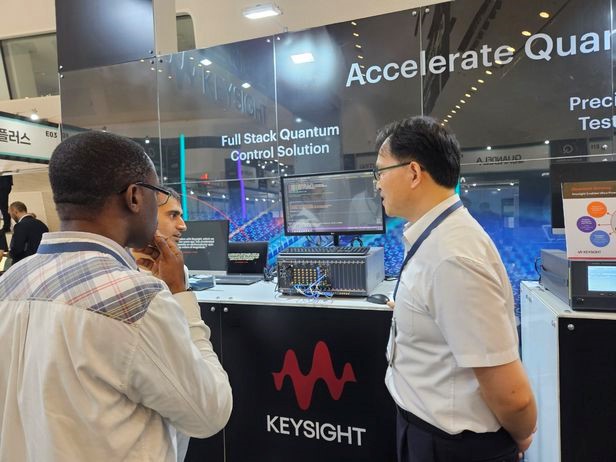 Director Kim Kyung-won, who is developing quantum measurement solutions at Keysight, an American measurement equipment company, said, "We plan to discuss cooperation methods with Korean research institutes through today's event." We plan to provide," he said.
Overseas also showed great interest in Korea's quantum technology level and ecosystem establishment strategy. Mr. Ruid, who came from France, said, "Just a few years ago, Korea was not a country that received much attention in terms of quantum technology, but it has grown rapidly in recent years." I heard," he said.
The event was attended not only by business officials but also by students interested in quantum fields. The Korea Advanced Institute of Science and Technology (KAIST), which started accepting graduate students for the first time this year, set up a booth and started promoting. A government official I met here said, "I am in charge of quantum-related work, and I am looking into graduate school admissions as a way to develop my expertise." said.
Shin Jeong-ju (25), who is majoring in electronic engineering at university, said, "I was thinking about entering the quantum field recently, and I learned that this event was going to be held and attended it." It was an opportunity to learn a lot about industry and industry trends."